2016 Aston Martin V8 Vantage Roadster Road Test Review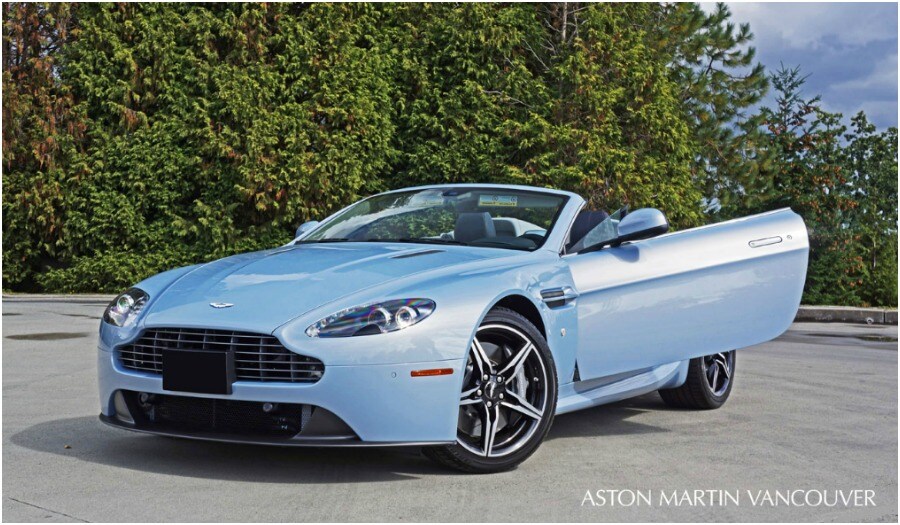 One of the most beautiful sports cars money can buy
Cruising around in an Aston Martin V8 Vantage Roadster on a sunny afternoon could go to anyone's head, making an accomplished albeit little known business mogul feel like celebrity, but let's make one thing perfectly clear, in this case the car is the star. 
A modern-day classic, the Vantage attracts flocks of reverent followers where ever it goes. The rasping bark from its twin tailpipes might initially cause a disgruntled turn of the head, but that's immediately followed by a softening expression, easy smile and cheery acceptance. Unlike some upper echelon sports cars, there's something about Aston Martin that simultaneously eliminates envy and elicits positive energy. I'm sure this particular example's tranquil Mako Blue paintwork didn't hurt matters. 

It's been a while since I took to the road in a V8 Vantage Roadster, although those were the streets of Monterey, California and the car tested was white with a mocha cloth top and interior. It would've done just as nicely this time around, but there's something subtly bespoke about this 2016 model's whimsical blue hue and richer, dark navy fabric top, these colours complemented by an intricately penned set of diamond-turned twinned five-spoke 19-inch alloys, classic grey painted brake calipers, and clear taillight lenses, all worthy options, whereas the steely tone of its light Argento grey interior was comparatively down to business. 
We're talking business done in an opulently attired office, mind you, Aston never going sparse on grandeur unless purposefully gutting the interiors of its V8 Vantage GTE Pro racing cars ahead of FIA World Endurance Championship events like the 6 Hours of Mexico it just won, July's 6 Hours of Nürburgring it also claimed victory at, and the famed 24 Hours of Le Mans where the legendary British marque walked away as Championship leader in June. Aston Martin's glittering history is medaled in motorsport success, a heritage many of its showroom challengers can't claim. 

The menacing growl escaping its dual chromed tailpipes delivers a quick reminder of this racing pedigree with each blip of the throttle, although the V8 Vantage' resplendent cabin is obviously more about keeping well-heeled racers comfortable on the way back from the track. The special two-tone perforated leather seats are as beautifully sculpted as they're comfortably enveloping, their cushions optionally heated and power-adjustability enhanced with memory, while Aston finished nearly every inch of the cabin's surfacing in soft contrast blue-stitched hides, from the rearmost buttresses atop the deck lid and bulkhead wall just below, to each door panel from top to bottom, door jams included, as well as the entire instrument panel and dash, albeit the roof pillars, windshield cross member, and soft top lining is trimmed in ultimately luxurious alcantara suede. Other highlights include seemingly solid piano black lacquered hardwood door pulls and handles, ruggedly constructed yet still beautifully detailed aluminum doorsill plates, et cetera ad infinitum. 
I defy you to find anything cheap inside this car, which can't be said for some even pricier rivals. Where such competitors take shortcuts with hard, hollow, mould-extruded plastics, the Vantage has refitted this 2016 model's intuitively designed centre stack with a dazzling spectacle of touch-sensitive buttons and handcrafted billet aluminum knobs. There's nothing like it anywhere. Even the surrounding grey surfacing is as densely solid as I've ever felt, Aston not skimping on quality one iota, while the flip-up infotainment display remains as discrete as possible, just the way I prefer in a car with so many classic elements, although it's infused with sharp resolution, rich contrast, deep colours, and a useful array of practical and sporting features. The former includes the usual reverse camera with dynamic guidelines, navigation, finer adjustments for its superb optional 600-watt audio system, and more, whereas the latter boasts horsepower and torque meters to add some visual fun to the car's accelerative experience, that is if the rapidly advancing road ahead, smudged peripheral scenery, and previously noted engine and exhaust soundtrack aren't already sensory overload. 

Those unfamiliar with Aston Martin primary gauges might immediately find themselves doing a double-take after witnessing the tachometer spinning counterclockwise, just one of many wonderful idiosyncrasies carried forward from the brand's storied past. On that note, horology aficionados will appreciate the level of fine detail invested into each of those analog dials, their simplicity more likely the muse of watchmakers rather than the other way around, with recent similarly styled examples of the latter being the grey-faced Mido Commander II, the Alpina Alpiner Chronograph Automatic 41.5, and the March LA.B AM3, the latter timepiece's markers and hands coming close to mirroring the A-M's speedometer and tachometer markers and needles, albeit the Vantage fitting a duo of digital readouts that pull memories of a Breitling Aerospace Titanium once lusted after in my younger years. 
At takeoff there's no time for fiddling with the stopwatch pusher of whatever happens to be on your wrist, as mastering the Roadster's 4.9-second launch from standstill to 100km/h requires focus and finesse. Aston's naturally aspirated 32-valve, quad-cam, 4.7-litre V8 has no trouble maximizing its full 420 horsepower and 346 lb-ft of twist, while the efficient and highly reactive Sportshift II seven-speed dual-clutch automated gearbox quickly responds to steering wheel paddle prompted shifts. Of course, feel free to leave it in D when cruising through town at a more leisurely pace, the V8's rumble somewhat muted albeit still capable of tingling the senses. 

I didn't have Monterey's Laureles Grade Road nearby to suss out the results of any upgrades to the Vantage Roadster's front and rear double wishbone suspension setup, the steep serpentine stretch of tarmac who's northernmost T-junction suitably finalizes next to Laguna Seca raceway an especially enticing slice of switchbacks, but there's no shortage of circuitous backroads around my city either, and while few are as spectacular as that memorable ribbon of grey and yellow, the Vantage Roadster's adept undercarriage and gripping set of 245/40 front and 285/35 rear ZR19 Bridgestone Potenzas perfectly combined with its wind-cheating but high-speed down-pressure inducing, ultra-rigid yet lightweight extruded bonded-aluminum, magnesium alloy, composite and high-strength steel VH body shell for wholly soulful, viscerally exhilarating, wonderfully balanced and superbly controlled performance that nothing so elegant and stately should be capable of delivering. Its 380 mm front and 330 mm rear discs administer gravity defying stopping power too, something I was grateful for after realizing how quickly speed ramped up. This said it's not all about pace, the Roadster's well-sorted suspension amply soaking up nasty bumps and dips with graceful composure too. 
While impressive in every respect, we need to keep in mind that my test car was just a well equipped base model, and that Aston Martin offers V8 Vantage S and V12 Vantage S trims above this, or alternatively the race-replica GT Special Edition that's an especially good value. The six-speed manual equipped hardtop starts at a reasonable $128,100 and the Roadster at $143,100, although my tester's many options pushed its price to $192,000 before freight and fees. Still, you can attain such lofty sums and higher with competitive sports cars that don't offer anywhere near this Aston Martin's vaunted image, iconic heritage, or hand-built quality, making the V8 Vantage Roadster seem like a relative bargain. 
Either way, no serious car collection is complete without an Aston Martin, and the V8 Vantage Roadster is a very good starting point. It remains one of the most beautiful sports cars money can buy.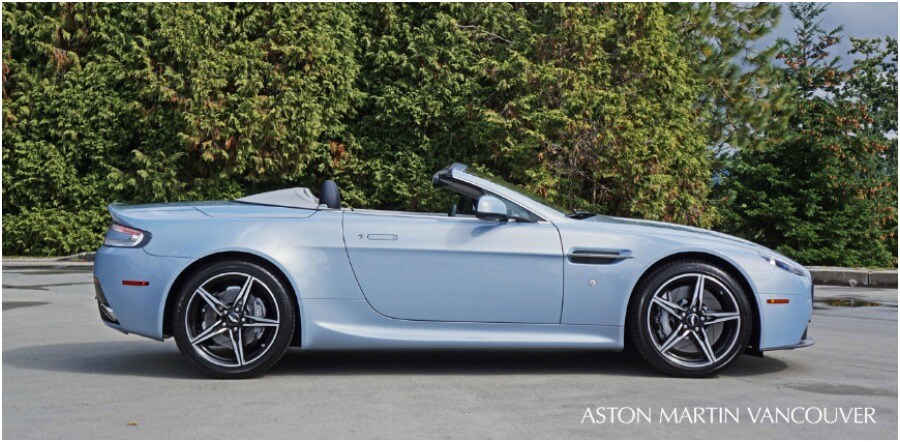 Story credits: Trevor Hofmann, Canadian Auto Press 
Photo credits: Karen Tuggay, Canadian Auto Press 
Copyright: Canadian Auto Press Inc.